Grades: 1, 2, 3, 4, 5, 6, 7, 8
This program is designed to inspire and engage students in
the world of technology. Each project teaches different 21st century technology and STEM skills, allowing students to expand their knowledge and understanding of these crucial subject areas for today's day and age.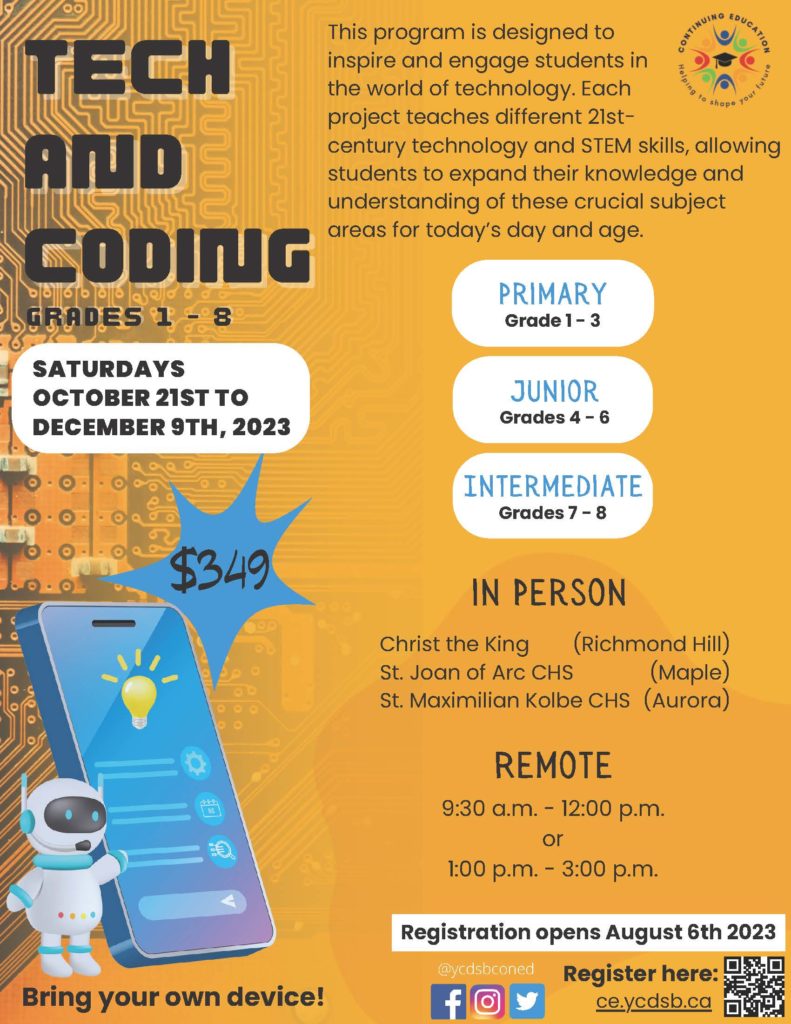 Locations:
Online Remote Classroom
Christ the King
St. Joan of Arc CHS
St. Maximilian Kolbe CHS
Tech and Coding Fall Classes
Currently Offering
The following Fall classes are currently available for registration. Programs are offered throughout the year. Please check back often for the most up to date information.
Date
Time
Program
Cost
Registration
Oct 21, 2023 -
Dec 09, 2023 (Sat)
9:30 am -
12:00 pm
Tech and Coding Primary - Gr. 1 to 3 - St. Joan of Arc CHS
YCDSB Students: $349
Non-YCDSB Students: $349
VISA Students: $349
Register Now!!

for Tech and Coding Primary - Gr. 1 to 3 - St. Joan of Arc CHS at St Joan Of Arc CHS

Oct 21, 2023 -
Dec 09, 2023 (Sat)
9:30 am -
12:00 pm
Tech and Coding Junior - Gr. 4 to 6 - St. Joan of Arc CHS
YCDSB Students: $349
Non-YCDSB Students: $349
VISA Students: $349
Register Now!!

for Tech and Coding Junior - Gr. 4 to 6 - St. Joan of Arc CHS at St Joan Of Arc CHS

Oct 21, 2023 -
Dec 09, 2023 (Sat)
9:30 am -
12:00 pm
Tech and Coding Intermediate - Gr. 7 to 8 - St. Joan of Arc CHS
YCDSB Students: $349
Non-YCDSB Students: $349
VISA Students: $349
Register Now!!

for Tech and Coding Intermediate - Gr. 7 to 8 - St. Joan of Arc CHS at St Joan Of Arc CHS

Oct 21, 2023 -
Dec 09, 2023 (Sat)
1:00 pm -
3:30 pm
Tech and Coding Intermediate - Gr. 7 to 8 - Online Virtual Classroom - Afternoon
YCDSB Students: $349
Non-YCDSB Students: $349
VISA Students: $349
Register Now!!

for Tech and Coding Intermediate - Gr. 7 to 8 - Online Virtual Classroom - Afternoon at Online Virtual Classroom

Oct 21, 2023 -
Dec 09, 2023 (Sat)
1:00 pm -
3:30 pm
Tech and Coding Junior - Gr. 4 to 6 - Online Virtual Classroom - Afternoon
YCDSB Students: $349
Non-YCDSB Students: $349
VISA Students: $349
Register Now!!

for Tech and Coding Junior - Gr. 4 to 6 - Online Virtual Classroom - Afternoon at Online Virtual Classroom

Oct 21, 2023 -
Dec 09, 2023 (Sat)
9:30 am -
12:00 pm
Tech and Coding Primary - Gr. 1 to 3 - St. Maximilian Kolbe CHS
YCDSB Students: $349
Non-YCDSB Students: $349
VISA Students: $349
Register Now!!

for Tech and Coding Primary - Gr. 1 to 3 - St. Maximilian Kolbe CHS at St Maximilian Kolbe CHS

Oct 21, 2023 -
Dec 09, 2023 (Sat)
1:00 pm -
3:30 pm
Tech and Coding Primary - Gr. 1 to 3 - Online Virtual Classroom - Afternoon
YCDSB Students: $349
Non-YCDSB Students: $349
VISA Students: $349
Register Now!!

for Tech and Coding Primary - Gr. 1 to 3 - Online Virtual Classroom - Afternoon at Online Virtual Classroom

Oct 21, 2023 -
Dec 09, 2023 (Sat)
9:30 am -
12:00 pm
Tech and Coding Intermediate - Gr. 7 to 8 - Online Virtual Classroom - Morning
YCDSB Students: $349
Non-YCDSB Students: $349
VISA Students: $349
Register Now!!

for Tech and Coding Intermediate - Gr. 7 to 8 - Online Virtual Classroom - Morning at Online Virtual Classroom

Oct 21, 2023 -
Dec 09, 2023 (Sat)
9:30 am -
12:00 pm
Tech and Coding Junior - Gr. 4 to 6 - St. Maximilian Kolbe CHS
YCDSB Students: $349
Non-YCDSB Students: $349
VISA Students: $349
Register Now!!

for Tech and Coding Junior - Gr. 4 to 6 - St. Maximilian Kolbe CHS at St Maximilian Kolbe CHS

Oct 21, 2023 -
Dec 09, 2023 (Sat)
9:30 am -
12:00 pm
Tech and Coding Junior - Gr. 4 to 6 - Online Virtual Classroom - Morning
YCDSB Students: $349
Non-YCDSB Students: $349
VISA Students: $349
Register Now!!

for Tech and Coding Junior - Gr. 4 to 6 - Online Virtual Classroom - Morning at Online Virtual Classroom

Oct 21, 2023 -
Dec 09, 2023 (Sat)
9:30 am -
12:00 pm
Tech and Coding Intermediate - Gr. 7 to 8 - St. Maximilian Kolbe CHS
YCDSB Students: $349
Non-YCDSB Students: $349
VISA Students: $349
Register Now!!

for Tech and Coding Intermediate - Gr. 7 to 8 - St. Maximilian Kolbe CHS at St Maximilian Kolbe CHS

Oct 21, 2023 -
Dec 09, 2023 (Sat)
9:30 am -
12:00 pm
Tech and Coding Primary - Gr. 1 to 3 - Online Virtual Classroom - Morning
YCDSB Students: $349
Non-YCDSB Students: $349
VISA Students: $349
Register Now!!

for Tech and Coding Primary - Gr. 1 to 3 - Online Virtual Classroom - Morning at Online Virtual Classroom

Oct 21, 2023 -
Dec 09, 2023 (Sat)
9:30 am -
12:00 pm
Tech and Coding Intermediate - Gr. 7 to 8 - Christ the King
YCDSB Students: $349
Non-YCDSB Students: $349
VISA Students: $349
Register Now!!

for Tech and Coding Intermediate - Gr. 7 to 8 - Christ the King at Christ The King CES

Oct 21, 2023 -
Dec 09, 2023 (Sat)
9:30 am -
12:00 pm
Tech and Coding Primary - Gr. 1 to 3 - Christ the King
YCDSB Students: $349
Non-YCDSB Students: $349
VISA Students: $349
Register Now!!

for Tech and Coding Primary - Gr. 1 to 3 - Christ the King at Christ The King CES

Oct 21, 2023 -
Dec 09, 2023 (Sat)
9:30 am -
12:00 pm
Tech and Coding Junior - Gr. 4 to 6 - Christ the King
YCDSB Students: $349
Non-YCDSB Students: $349
VISA Students: $349
Register Now!!

for Tech and Coding Junior - Gr. 4 to 6 - Christ the King at Christ The King CES